Positive Psychology Course Preview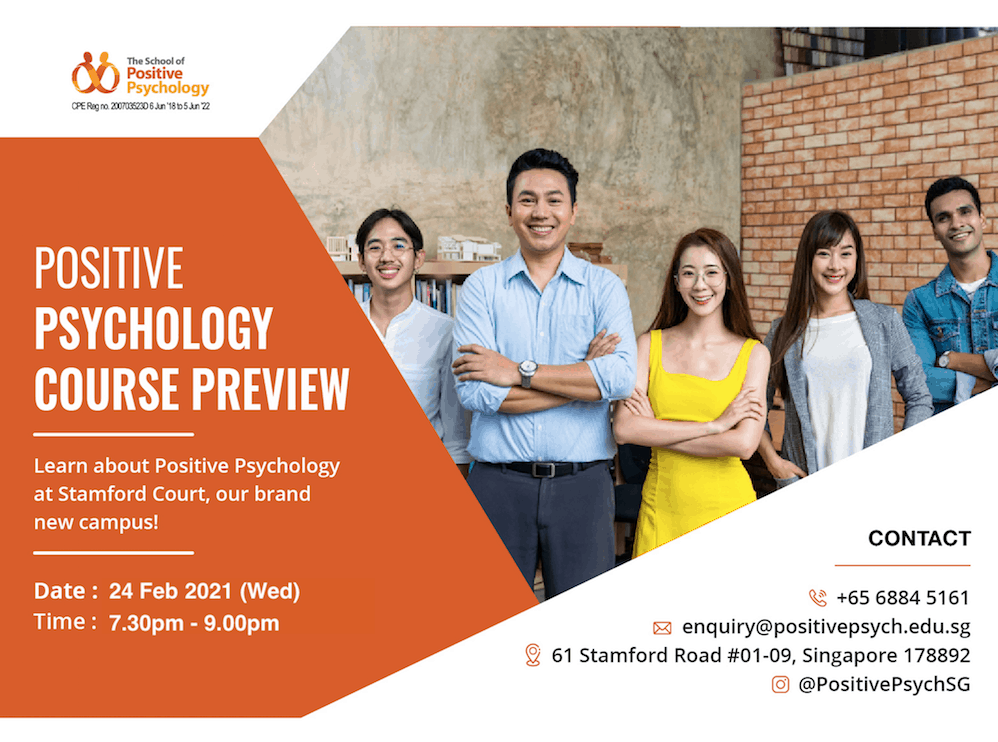 Learn how to apply Positive Psychology in personal, societal, and educational settings!
Study the art and science of Positive Psychology, and find out how you can apply evidence-backed theories to improve your life, increase the wellbeing of those around you, and contribute to your community.
Our Course Previews are non-obligatory information sessions for prospective students to learn about the various programmes offered at The School of Positive Psychology. We would love to help you jumpstart a gratifying career!
What is the Course Preview about?
This is an opportunity for anyone interested in TSPP's courses to learn more about the course structure, career pathways and entry requirements.
After a presentation by our consultant, attendees will be able to participate in a Q&A session, and learn more about admissions procedures.
Refreshments will be provided during the event. Participants are also entitled to a complimentary Strengths Coaching Session on a selected date after the course preview.
Positive Psychology Courses:
We welcome everyone who is interested in psychology, positivity, or helping to bring out the best in others to join us for this preview session. If you would like to know more about Positive Psychology and Psychotherapy programmes or the preview, fill in the registration form below or contact us at
shalyn@positivepsych.edu.sg