Caring Communication For Better Connections: Online Talk + Preview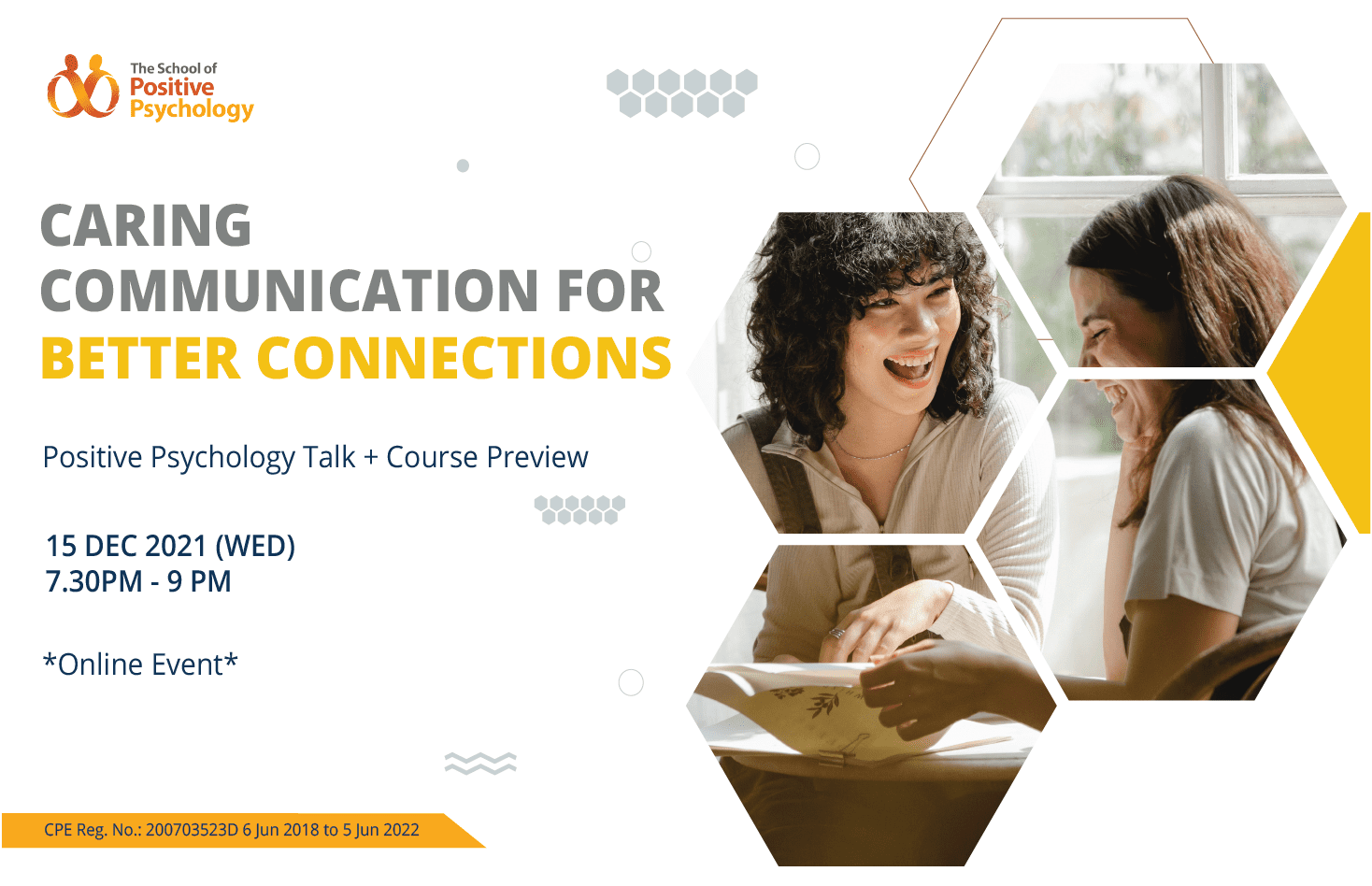 Communication plays a pivotal role in the wellbeing of any individual or group. It is the foundation on which all relationships are built and a crucial component of our world.
Integrating Positive Psychology concepts within communication enables individuals to cultivate more positive emotions, promote engagement, and build authentic relationships.
With festivities around the corner, equip yourself with valuable insights on how to communicate more effectively to build connections and support one another!
Join us in this session, where you will:
Better understand your personal communication style
Gain an overview of the C.A.R.E. model of positive communication
Learn tips on communicating for wellbeing
The talk will be followed by the Course Preview of Positive Psychology programmes.
What is the course preview about?
This is an opportunity for anyone interested in TSPP's courses to learn more about the course structure, career pathways and entry requirements.
After a presentation by our consultant, attendees will be able to participate in a Q&A session, and learn more about admissions procedures.
Our Positive Psychology Courses:
About the Speaker: Jana Dawson
Jana's multidisciplinary background in organisational and intercultural communication, positive psychology, coaching and mindfulness has fashioned her expertise in developing and delivering evidence based, culturally applicable programmes in numerous organisational contexts.
As a positive psychology practitioner, Jana is an advocate of a strengths-based approach in guiding individuals, teams and organisations to develop positive behaviours that cultivate resilient and flourishing organisations.
We welcome everyone who is interested in psychology, positivity, or helping to bring out the best in others to join us for this preview session. If you would like to know more about Positive Psychology, other programmes or the preview, fill in the registration form below or contact us at
bernie@positivepsych.edu.sg
.