Cultivating Mental Fitness: Positive Psychology Talk + Course Preview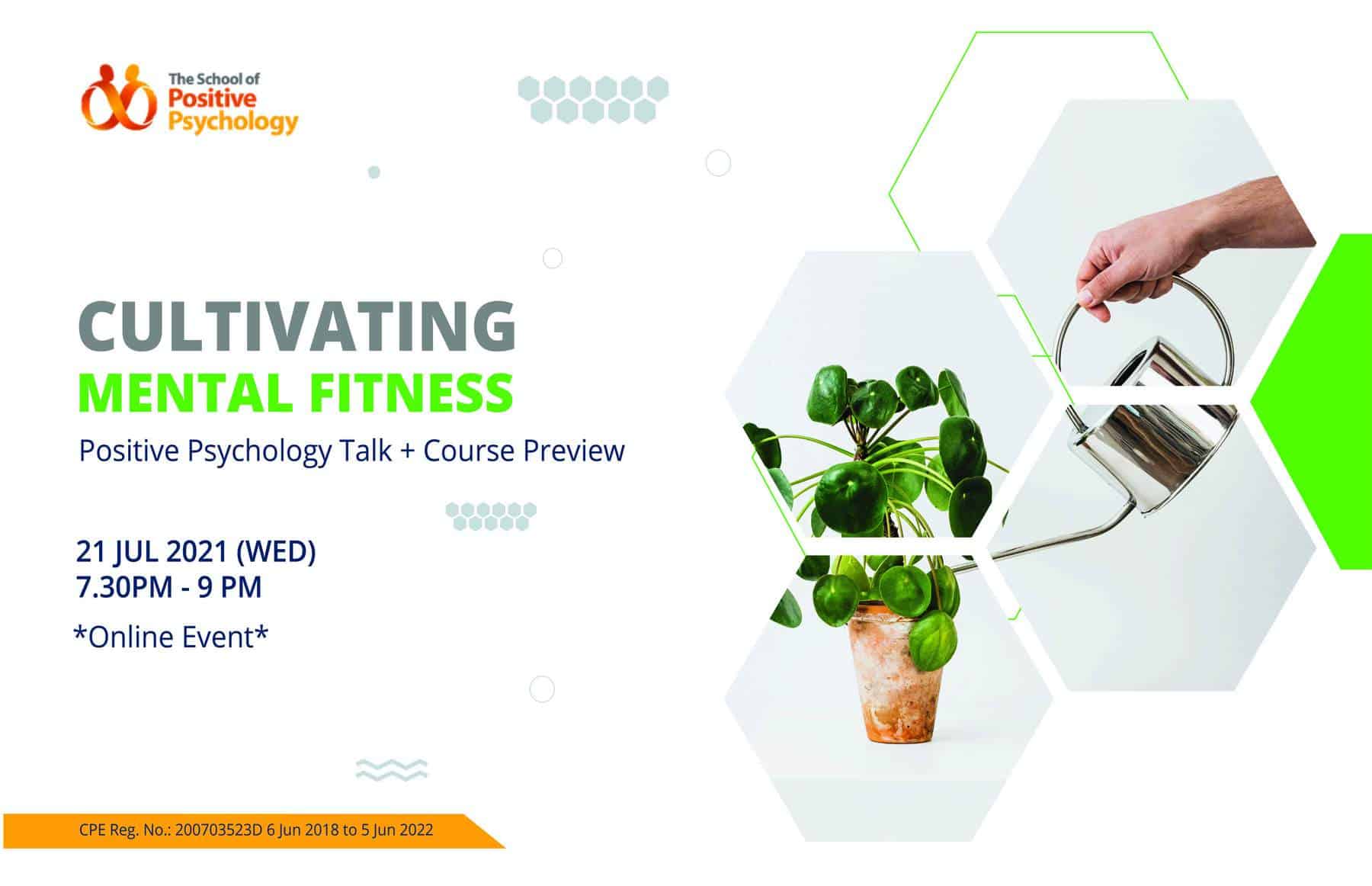 Why is mental fitness important?
Just as a healthy body keeps physical illnesses away, having a healthy mind helps you to manage stress and stay focused on achieving your goals.
Do you want to cultivate mental fitness to face challenges with strength?
Join us as we explore more about mental wellbeing and the beneficial mental practices you can incorporate into daily life to develop mental fitness.
Learn the 3 Rs to recharge and take control of your wellbeing
Gain a deeper understanding of factors that affect our resilience
Discover Positive Psychology insights for your mental health
The talk will be followed by previews of selected TSPP courses.
Our Course Previews are non-obligatory information sessions for prospective students to learn about the various programmes offered at The School of Positive Psychology. We would love to help you jumpstart a meaningful career!
What is the online course preview about?
This is an opportunity for anyone interested in our Positive Psychology programmes to learn more about the course structure, career pathways and entry requirements.
After a presentation by our consultant, there will be a Q&A session for attendees to clarify any queries as well as learn more about admissions procedures.
After registration, participants will be sent a link to join the talk and preview.
Positive Psychology courses offered at TSPP:
About the Speaker: Tara Schofield
Tara Schofield lives, loves and teaches the art and science of positive psychology and wellbeing. She brings the latest research to life in ways that support individuals and organisations to thrive. Her professional background spreads almost 20 years in Training and Development, Human Resources Management and as a Lecturer.
She is currently working as a Lecturer and Program Developer with the School of Positive Psychology (Singapore) as well as a Wellbeing trainer within an Australian hospital. Tara partners with MNC's, schools, universities, private colleges, government departments, mental health consumers and the general public to build wellbeing, resilience and strengths.
We welcome everyone who is interested in psychology, positive psychology or those who want to bring out the best in others to join us for this preview session.
If you would like to know more about Positive Psychology, other programmes or the preview, fill in the registration form below or contact us at
enquiry@positivepsych.edu.sg
.