Existential Psychology & Psychotherapy Workshop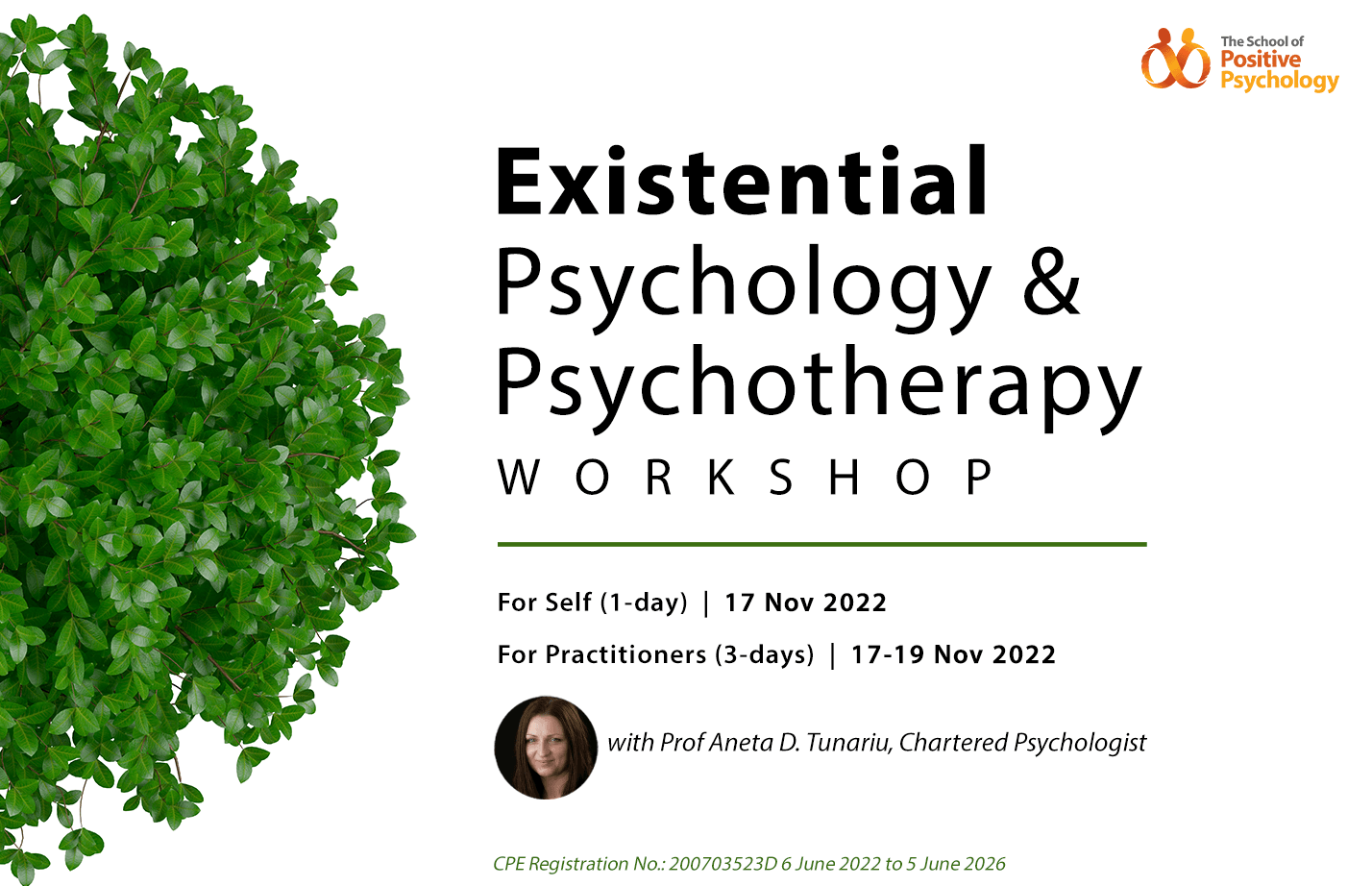 What is Existential Psychology, and how can Practitioners include Existential Psychotherapy to their current modalities?
Find out more about Existentialism in the context of Existential Psychology and Psychotherapy in this 1-3 day workshop for participants of all levels.
17 Nov 2022, 9AM – 5.30PM (Day 1)
EXISTENTIAL PSYCHOLOGY FOR THE SELF
At a certain point in our lives, we might wonder how we can live in a way that makes our lives count for something. Life is indeed transient and fragile. We can strive to do our best, but eventually all things come to an end too.
We might contemplate about what makes us unique and special If we are not our social roles, career statuses, familial responsibilities, or even past achievements.
What exactly makes a meaningful life, and how can we make the most out of our time on earth?
With Existential Psychology, we confront the existential anxieties that come with the human condition – such as death, freedom, isolation, and meaninglessness.
This one-day workshop introduces key principles from Existential Psychology, and discusses ways in which we can muster the courage and creativity to not only be the best version of ourselves, but also find acceptance with our being in the world.
WHO IS SUITABLE TO ATTEND DAY 1 OF THIS COURSE?
This course is suitable for anyone seeking personal development, better self-awareness, guidance on career, and ways to improve communication with others.
18 – 19 Nov 2022, 9AM – 5.30PM (Day 2 & 3)
EXISTENTIAL PSYCHOTHERAPY FOR PRACTITIONERS
Existential Psychotherapy is a distinct modality in a few aspects; philosophical ideas are used to underpin the understandings of the human predicament.
A clinically-trained therapist may notice abnormal symptoms in a client, but with knowledge of Existential Psychotherapy, a practitioner can learn the differences between psychological disorders and mere existential angst.
During the process of an Existential Psychotherapy session, philosophical ideas will be translated through the lens of the therapeutic intention.
Existentially aware practitioners will be able to open up existential themes to enrich and deepen therapeutic outcomes for their clients.
This two-day practitioner-only workshop is available to those who have attended Existential Psychology for the Self (Day 1), and will introduce key philosophical principles of Existential Psychotherapy. Practitioners will discuss case studies and learn Existential Psychotherapy techniques to provide positive and meaningful change for their clients.
Due to the nature of this unique modality, practitioners ought to have an open and curious mind with no fixed ideologies, as well as a humility in not knowing all the answers to human conflicts and its paradoxes.
This programme can be utilised as part of the Continuing Professional Development (CPD) for practitioners (18 hours).
Upon completion of the course, participants will also receive a Certificate in Existential Psychotherapy.
WHO IS SUITABLE TO ATTEND DAY 2-3 OF THIS COURSE?
This course is suitable for counsellors, psychotherapists, psychologists, psychiatrists, mental healthcare professionals, and graduates/diploma holders of psychology.
After a presentation by our consultant, attendees will be able to participate in a Q&A session, and learn more about admissions procedures.
*Sign up by 17 Oct 2022 for a 20% Early Bird Rebate!*
TSPP Alumni receive a 25% discount off retail prices, at the following rates:
About the Trainer: Professor Aneta D. Tunariu
Professor Tunariu is the Head of a School of Psychology at a London University and a Chartered Psychologist with the British Psychological Society (BPS).
For over a decade, she blended concepts and practices from Existential Psychotherapy with key areas of Psychology (social psychology, developmental psychology, counselling psychology, positive psychology, coaching psychology as well as group dynamics and psychoanalytic theory) to develop, implement and evaluate Existential Positive Psychology Interventions in different contexts including coaching, education, wellbeing, and social work.
Prior to her current role, she held an 8-year honorary psychotherapist position at Guy's Hospital in London under the supervision of a Consultant Psychotherapist and Buddhist Teacher – who, over an uninterrupted period of 1000 supervised clinical hours – chiselled her professional appreciation and personal journey as an existentially embedded practitioner.
For more information on this workshop, download the brochure or get in touch with us via the form below!