Flourishing Classrooms: A Perma Approach Talk + Course Preview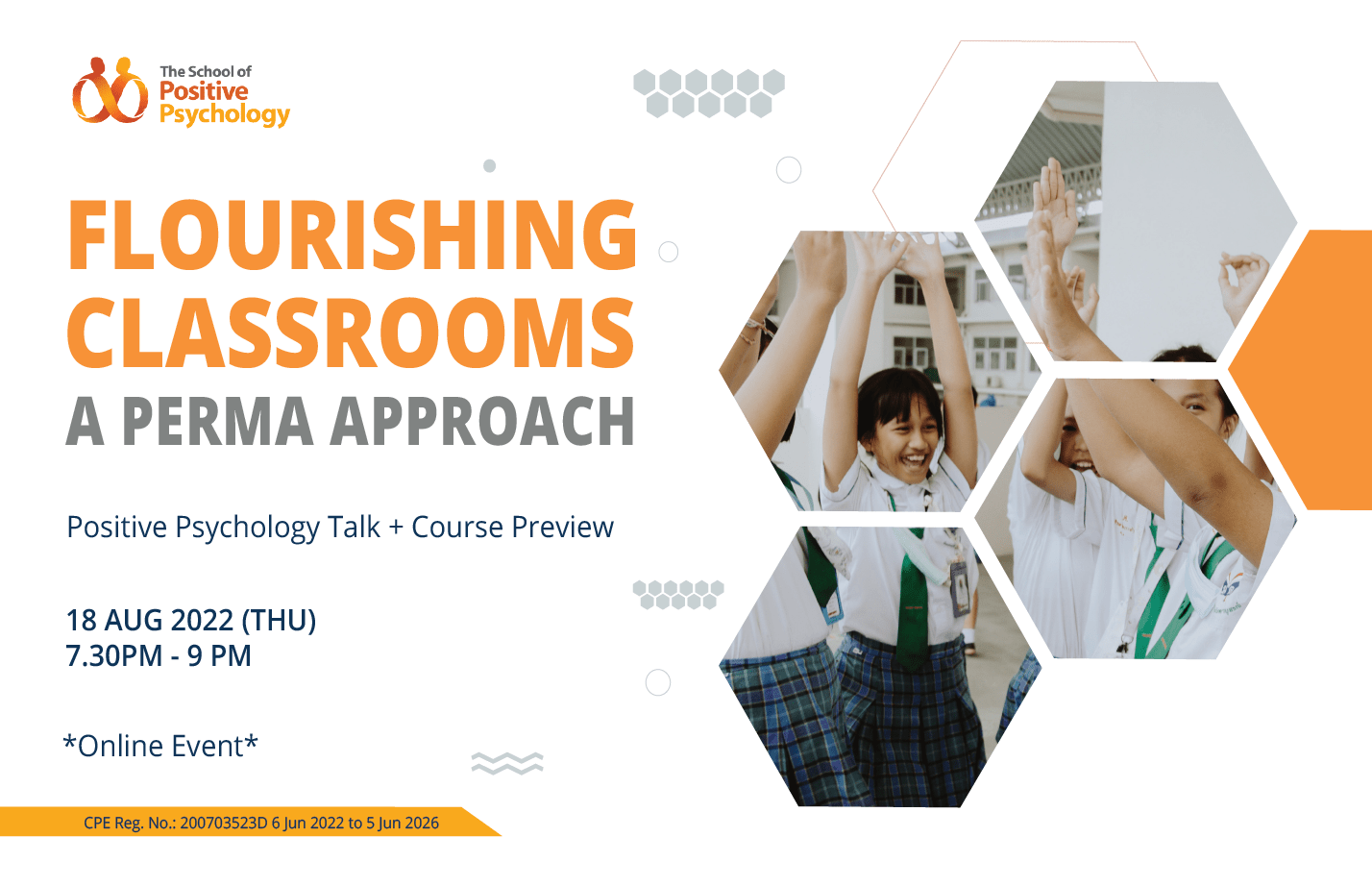 The COVID-19 pandemic has had profound impacts on education, with school closures and shifts to online learning across the globe. The Economist reports that nearly 153 million children have missed more than half of all in-person education during the period, with lingering effects till today. As a result, students' learning has been slowed, and their wellbeing has taken a toll.
Positive education, an empirical approach to optimal student learning and wellbeing, offers valuable practical applications to guide students to thrive in the classroom and beyond. As students cope with massive shifts in their learning experience, it is now a crucial time to implement more informed strategies in the classroom and incorporate mental wellbeing within the curriculum.
Join the upcoming talk with TSPP's trainer Matthew Koh, as he takes you through evidence-based insights to empower teachers to create flourishing classrooms with Positive Psychology.
Join us in this session, where you will:
Learn how to apply the PERMA approach in education
Discover strategies to build flourishing classrooms
Understand the importance of bringing Positivity into Classrooms
The talk will be followed by the Course Preview of Positive Psychology programmes.
What is the Course Preview about?
This is an opportunity for anyone interested in TSPP's courses to learn more about the course structure, career pathways and entry requirements.
After a presentation by our consultant, attendees will be able to participate in a Q&A session, and learn more about admissions procedures.
After registration, participants will be sent a link to join the talk and preview
Our Positive Psychology Courses:
About the Speaker: Matthew Koh
Matthew is a passionate positive psychology trainer and life coach with The Positive Arena. With more than 10 years of teaching experience in the education sector, Matthew has trained teachers and school leaders with Positive Education knowledge and skills, in order to inculcate a culture of wellbeing within schools to help students thrive in both academic studies and social emotional learning competencies.
We welcome everyone who is interested in psychology, positivity, or helping to bring out the best in others to join us for this course preview.
If you would like to know more about Positive Psychology and Psychotherapy programmes or the preview, fill in the registration form below or contact us at
events@positivepsych.edu.sg
.