Graduate Diploma in Coaching Psychology Information Session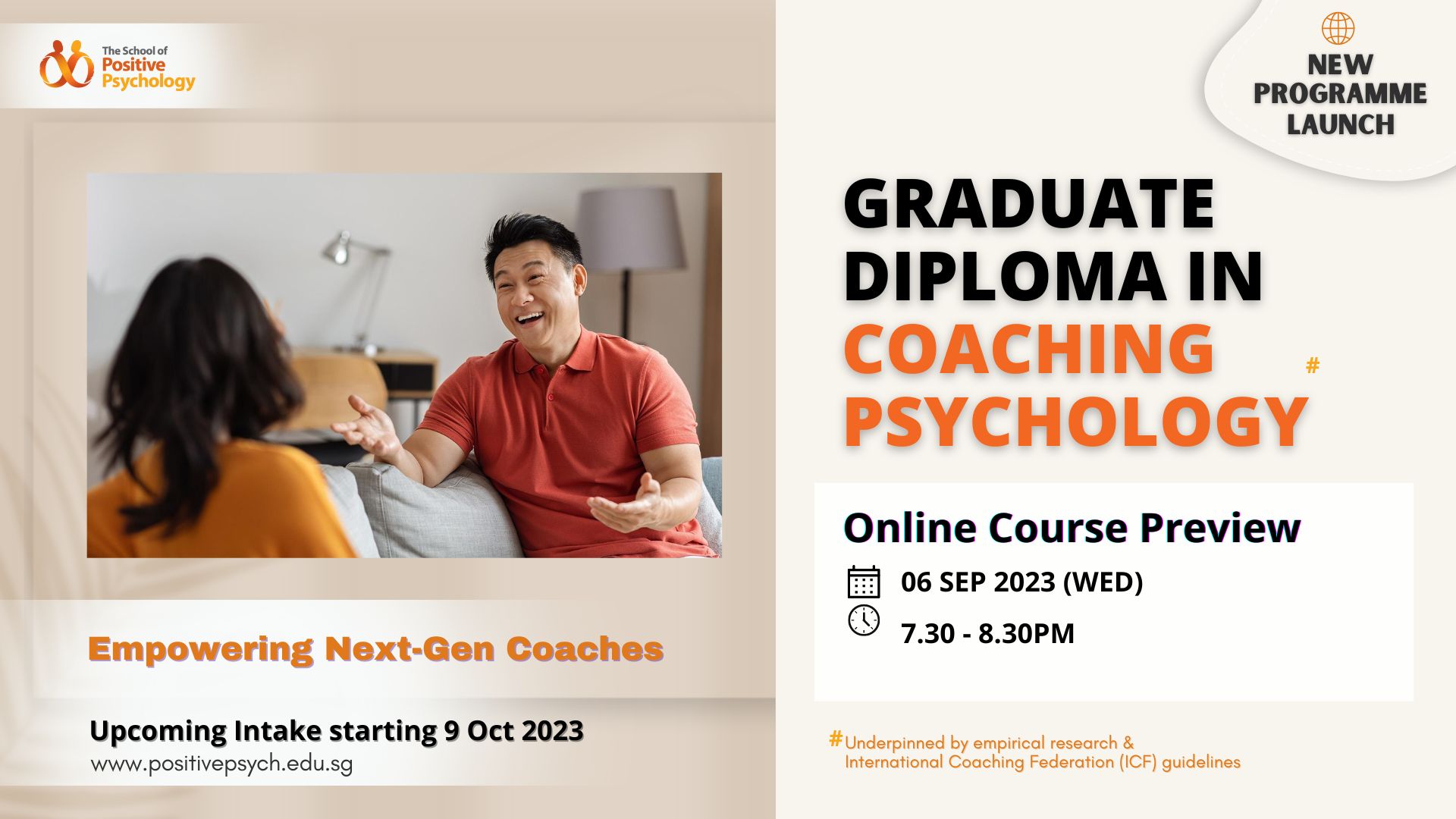 In the ever-evolving world of coaching, channelling your clients' hidden strengths is a challenge.
The Graduate Diploma in Coaching Psychology is a postgraduate programme designed for individuals who are interested in developing their coaching expertise and exploring the world of positive psychology coaching.
This six-month programme lays the foundation for both theoretical and applied knowledge of the science of psychology and coaching.
The programme is underpinned by empirical research, International Coaching Federation (ICF) guidelines, comprehensive resources and robust course content, as should be expected from South East Asia's leading psychology training institution.
This programme is intended for professionals, leaders, business owners and human resource professionals who desire to develop coaching skills to elevate wellbeing, enhance performance and guide others to become their "best selves".
In the upcoming information session, learn about this new programme offered at The School of Positive Psychology and discover how positive psychology can bring added meaning and career opportunities in your coaching careers.
What is the online information session about?
This is an opportunity for anyone interested in our newly launched Graduate Diploma in Coaching Psychology programme, to learn more about the course structure, career pathways and entry requirements.
After a presentation by our consultant, attendees will be able to participate in a Q&A session, and learn more about admissions procedures.
Please register via Eventbrite here. After registration, participants will be sent a link to join the talk and preview.
We welcome everyone who is interested in psychology, wellbeing, or helping to bring out the best in others to join us for this information session.
If you would like to know more about our Positive Psychology programmes or the information session, register via the form below or contact us at
events@positivepsych.edu.sg
.