Generating Results In 2021: How To Motivate Languishing Teams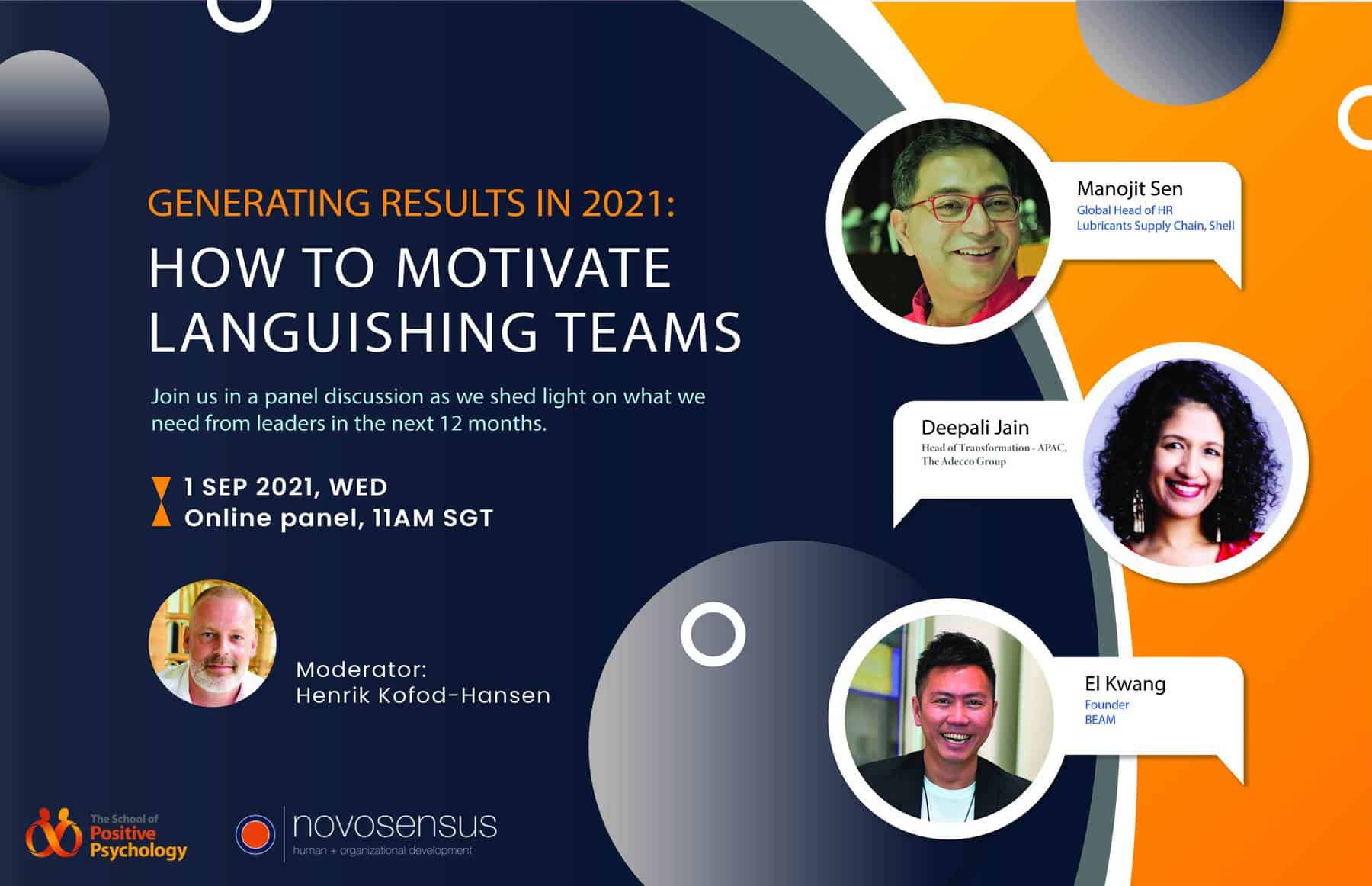 In the last 500 days, our lives and work has changed dramatically. We still face volatility and uncertainty, and many people are tired, even languishing. Remote working as the new reality makes effective collaboration more crucial than ever.
What does all this mean for leaders, and how they lead their teams?
How can leaders balance support and challenge within their teams to create both psychological safety and high performance?
How do we move out of the comfort zone and create new ways of leading?
Join us in a panel discussion as we shed light on what we need from leaders in the next 12 months.
Manojit Sen is an HR professional with over 20 years of experience working with Shell and a few years before that with Coke. He has done several leadership roles as an HR Generalist, Talent and Learning Head at regional and global levels across different business units.
Manojit is driven by the immense possibilities that open up when people collaborate. He is fascinated by the Future of Work, Digital Transformation, Agile and Design Thinking and is always trying to learn and experience the future as it unravels. An executive coach, he finds it rewarding coaching leaders to become the best version of themselves.
Deepali Jain is a business leader who is admired for her strategic thinking, data driven insights and practical solutions. She advises organisations on how to drive business performance through people-centric solutions, dynamic HR practices and digital innovation.
Deepali is passionate about growth and development at an individual and organisational level, and relentlessly focuses on how to unlock the potential of those around her. She leads through integrity, compassion and vulnerability, because she is truly committed to building an environment where everyone around her feels that they have a voice, a role and a contribution. Deepali has lived and worked in Asia, Europe and Americas and regularly speaks at industry events, most recent being AmCham Business Summit 2021.
El Kwang is the Founder and Chief Engager of BEAM, a content and event experience design agency in Singapore and Thailand with a community of 14,000 business professional.
With over 20 years of experience working across the hospitality and business event industries, El's passion is creating an environment for cross-cultural learning. El also works with leaders to create future-focused team conversations that lead to adopting a "possibility" mindset.
For more enquiries, please contact us: