Online Panel + Preview with Dr Evie Rosset: Shaping Young Minds with Positive Education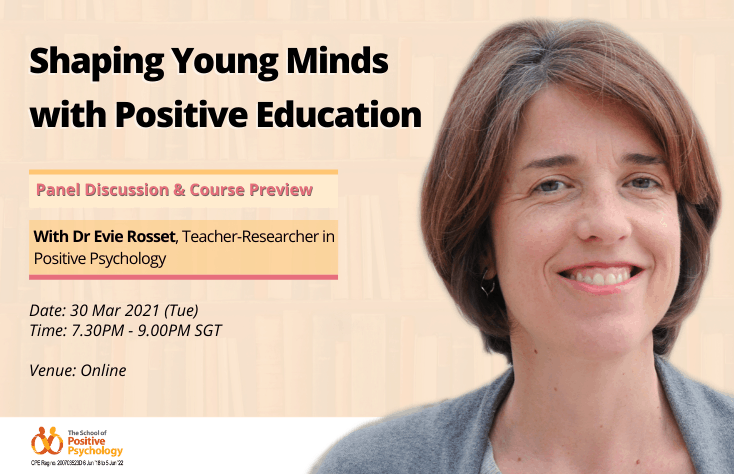 Traditionally, a large part of education focused on academics and character strength development. How can we help children and youths to cultivate their intellectual minds, and also develop a broad set of character strengths, virtues, and competencies at the same time?
Join us in a complimentary online panel session with Dr Evie Rosset, where we will discuss the importance of training both the heart as well as the mind in education.
As positive educators around the world strive to strengthen the school improvement agenda, the growth of positive education is now an exciting development that has started to receive wider global attention.
About the Speaker: Dr Evie Rosset
An experimental psychologist by training, Evie has spent most of her career with one foot in academia (in teaching and research) and the other one out (exploring real-world applications). She is particularly interested in social well-being and pro-social behaviour – our desire to help others, create connection, and contribute to the greater good.
Her main expertise lies in the fields of positive psychology and nudging, with research interests around collective well-being, altruism, social change, and engagement. In order for society to take full advantage of human beings' altruistic potential, Evie has developed a MAAC method that is based on the latest research in the psychology of motivation and engagement.
Join us in this complimentary online panel, where you will learn:
Ways to prepare children and youths to thrive and cope with any challenges
How to impart life skills such as resilience, grit, growth mindset, mindfulness and optimism to children and youths
How to shift educational institutions from a welfare model towards a wellbeing model
The Panel will be followed by the Course Preview of Postgraduate Diploma in Positive Education Strategies.
What is the course preview about?
This is an opportunity for anyone interested in TSPP's courses to learn more about the course structure, career pathways and entry requirements.
After a presentation by our consultant, attendees will be able to participate in a Q&A session, and learn more about admissions procedures.
After registration, participants will be sent a link to join the panel and preview a day prior to the event.
Postgraduate Diploma in Positive Education Strategies modules:
We welcome everyone who is interested in child and adolescent psychology, and ways to help bring out the best in others to join us for this preview session. If you would like to know more about Positive Psychology and Psychotherapy programmes or the preview, fill in the registration form below or contact us at
rachel@positivepsych.edu.sg
.