Online Panel + Preview With Dr Robert Biswas-Diener: How To Revitalise A Disengaged Organisation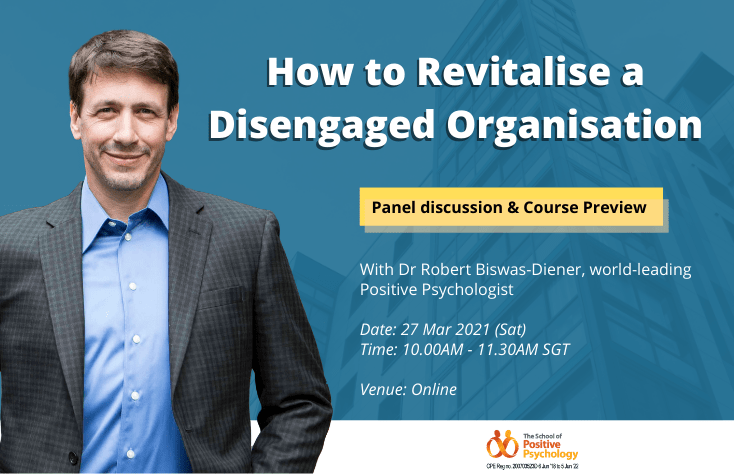 In a world with fast-occurring and unpredictable changes, leaders and managers may find themselves wondering what is the best way to move forth to bring positive impact to their organisations.
Join us in this complimentary online panel session re-run with Dr Robert Biswas-Diener, where we will talk about what it means to be a 'Good Leader', why compassionate leadership is more important now than ever, and strategic tips to prevent organisational burnout.
About the Speaker: Dr Robert Biswas-Diener
Dr Robert Biswas-Diener is widely known as the "Indiana Jones of Positive Psychology" because his research has taken him to such far-flung places as Greenland, India, Kenya, and Israel. He is a leading authority on strengths, culture, courage, and happiness and known for his pioneering work in the application of positive psychology to coaching.
Dr Biswas-Diener has authored more than 60 peer-reviewed academic articles and chapters, two of which are "citation classics" (cited more than 1,000 times each). He has authored seven books, including The Courage Quotient, the 2007 PROSE Award winner, Happiness, and the New York Times Best Seller, The Upside of Your Dark Side.
Join us in this complimentary online panel, where you will learn:
How you can implement and sustain good leadership
How to prevent burnout in employees, and how to manage organisational if it has already occurred
Compassionate Leadership and how to lead from the heart
The Panel will be followed by the Course Preview of Postgraduate Diploma in Positive Organisational Psychology and Leadership.
What is the course preview about?
This is an opportunity for anyone interested in TSPP's courses to learn more about the course structure, career pathways and entry requirements.
After a presentation by our consultant, attendees will be able to participate in a Q&A session, and learn more about admissions procedures.
After registration, participants will be sent a link to join the panel and preview a day prior to the event.
The Postgraduate Diploma in Positive Organisation Psychology and Leadership programme is the pathway to the Master of Applied Positive Psychology (MAPP) programme by Anglia Ruskin University.
We welcome everyone who is interested in positive organisational psychology or helping to bring out the best in others to join us for this online preview session. If you would like to know more about Positive Organisational Psychology, other psychology programmes or the preview, fill in the registration form below or contact us at
shalyn@positivepsych.edu.sg
.