Online Panel+Preview W Prof. Ilona Boniwell: How To Create Wellbeing In Workplaces & Schools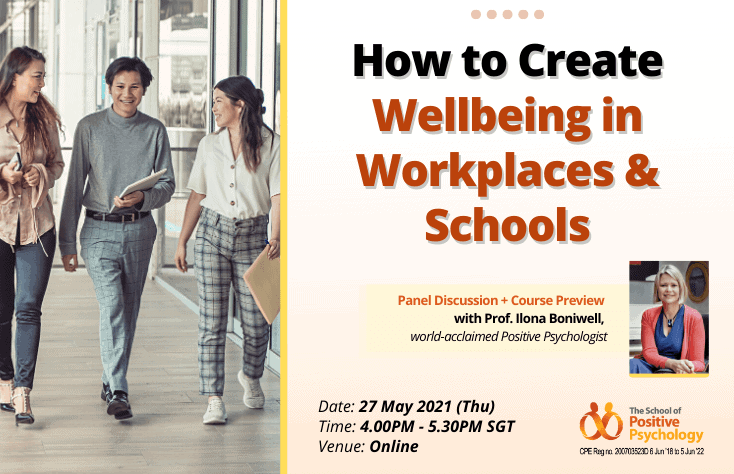 Wellbeing in workplaces and schools is increasingly important, but how can we play an active role in transforming the idea of wellbeing into measurable outcomes?
Join us in this complimentary panel with Positive Psychology pioneer Professor Ilona Boniwell, where we discuss how you can develop training and consultancy capabilities to bring healthy change in your context.
Gain insights into the challenges of incorporating wellbeing practices in organisations, how we can identify unhealthy organisation habits, and play a part in breaking them.
About the Speaker: Professor Ilona Boniwell
As one of the world's foremost authorities on positive psychology, Prof. Ilona Boniwell is sought-after by governments around the world for her high-level research and expertise. She has worked with the governments of Dubai and Bhutan to develop frameworks for their country's wellbeing policies.
An accomplished academic and researcher, Prof. Boniwell is currently the Programme Leader for the first Master's Degree in Applied Positive Psychology in Europe at Anglia Ruskin University in the UK. She also lectures at École Centrale Paris and The School of Positive Psychology (TSPP) in Singapore, and is an academic board member of TSPP.
A pioneer in the field, Prof. Boniwell founded the European Network of Positive Psychology, which represents more than 23 countries in Europe, and organised the first European Congress of Positive Psychology in the UK. She has also been appointed Vice-chair of the International Positive Psychology Association and is currently a member of its Executive Board.
Join us in this complimentary online panel, where you will learn:
The foundations for becoming a wellbeing trainer or consultant
What to consider when in implementing wellbeing transformation
How to adapt positive psychology tools for your context
The Panel will be followed by the Course Preview of Postgraduate Diploma in Positive Organisational Psychology and Leadership, and Postgraduate Diploma in Positive Education Strategies.
What is the course preview about?
This is an opportunity for anyone interested in TSPP's courses to learn more about the course structure, career pathways and entry requirements.
After a presentation by our consultant, attendees will be able to participate in a Q&A session, and learn more about admissions procedures.
After registration, participants will be sent a link to join the panel and preview.
The Postgraduate Diploma in Positive Organisational Psychology and Leadership, and Postgraduate Diploma in Positive Education Strategies programmes are pathways to the Master of Applied Positive Psychology (MAPP) programme by Anglia Ruskin University.
We welcome everyone who is interested in positive psychology to join us for this online preview session.
If you would like to know more about Positive Psychology and Psychotherapy programmes or the preview, fill in the registration form below or contact us at
enquiry@positivepsych.edu.sg
.