Panel + Preview: Learning Wellbeing Continuity – How To Sustain Wellbeing Strategies Across Life Domains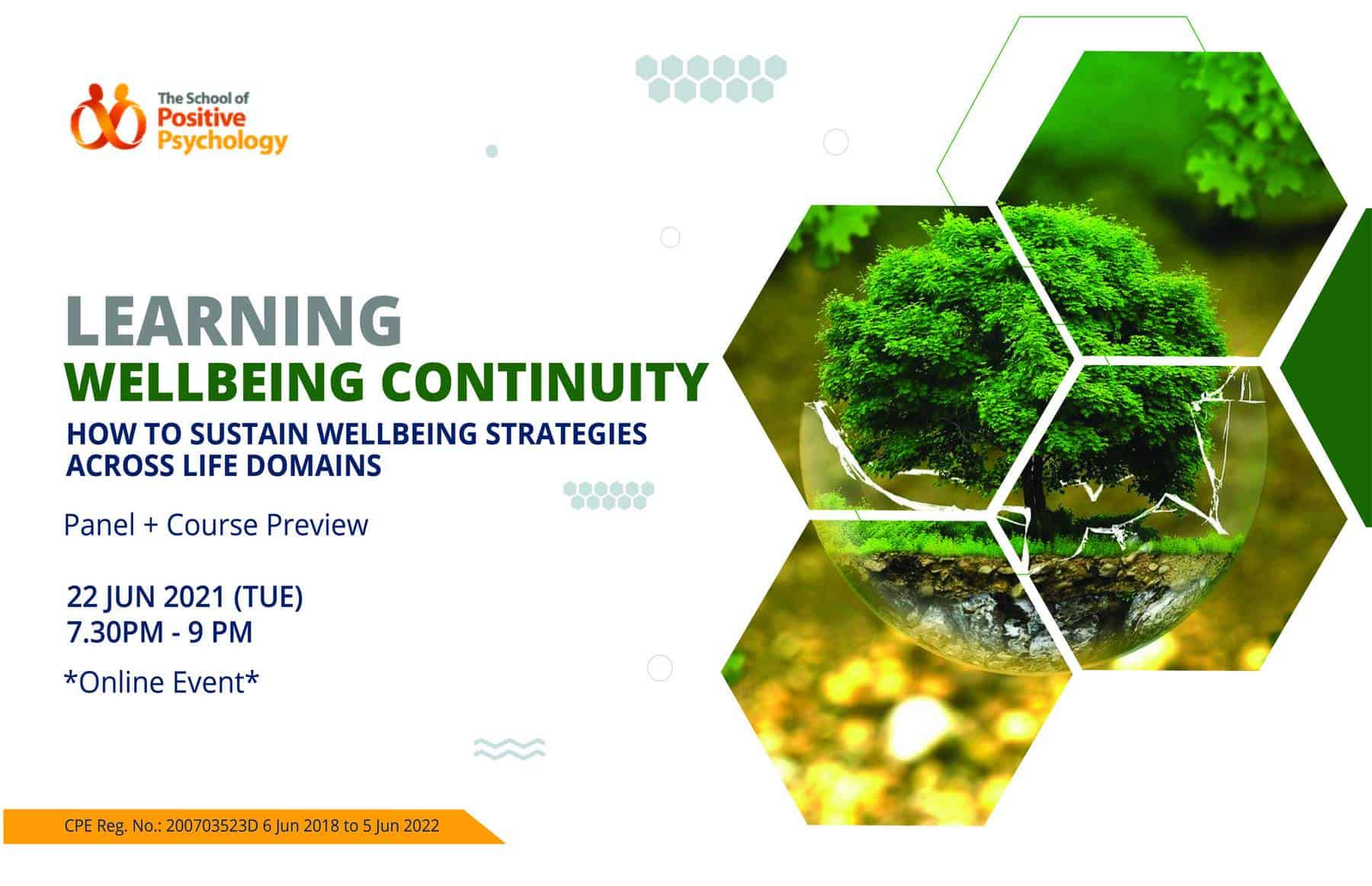 Learning an array of wellbeing strategies is the first step towards an improved quality of life. However, acquiring a toolkit of wellbeing strategies to cope with life's challenges is the easy part, how do you effectively integrate them into your life so that you can reap the benefits in the long run?
To ensure sustainable wellbeing in various aspects of our professional and personal lives, there are many factors to consider and conditions to nurture.
Join our panel with Wellbeing Consultant Tara Schofield, Positive Psychology Coach Stephen Lew and Educator Matthew Koh as they discuss how to create an eco-system of wellbeing continuity across the different aspects of your lives.
In this complimentary online panel, you will learn how to:
Build a sustainable foundation for lifelong wellbeing
Integrate Positive Psychology into your personal and professional lives
Implement and continue Positive Education strategies for children and adults
The Panel will be followed by the Course Previews of Positive Psychology and Positive Education programmes.
What is the course preview about?
This is an opportunity for anyone interested in TSPP's courses to learn more about the course structure, career pathways and entry requirements. After a presentation by our consultant, attendees will be able to participate in a Q&A session, and learn more about admissions procedures.
After registration, participants will be sent a link to join the panel and preview a day prior to the event.
Matthew is a positive psychology practitioner, educator and life coach. He has spent more than 10 years as an educator, specialising in teaching and coaching teenagers and young adults. After witnessing the prevalence and severity of mental health difficulties in his students, he decided to pursue positive psychology.
He is currently pursuing his MSc Applied Positive Psychology and Coaching Psychology with the University of East London and has successfully implemented Positive Education within the school curriculum to help students flourish in both academic and social realms. He has also facilitated numerous positive education workshops to equip educators with the know-how of Positive Education.
Tara Schofield lives, loves and teaches the art and science of positive psychology and wellbeing. She brings the latest research to life in ways that support individuals and organisations to thrive. Her professional background spreads almost 20 years in Training and Development, Human Resources Management and as a Lecturer.
She is currently working as a Lecturer and Program Developer with the School of Positive Psychology (Singapore) as well as a Wellbeing trainer within an Australian hospital. Tara partners with MNC's, schools, universities, private colleges, government departments, mental health consumers and the general public to build wellbeing, resilience and strengths.
An expert in the field of positive psychology with 19 years of experience in the higher education and training industry, Stephen Lew is the Founder and Executive Director of The School of Positive Psychology, a Singapore-based higher education institute that offers psychological-centric training programmes for professional and corporate development.
Stephen holds an MSc in Applied Positive Psychology with a focus in Organisational Psychology and Leadership. He is also a certified psychotherapist, clinical hypnotherapist, supervisor, and a fellow with the National Council of Psychotherapists in the United Kingdom. As a psychotherapist and a positive psychology coach, Stephen has worked with more than 800 clients in the areas of wellbeing development.
We welcome everyone who is interested in ways to help bring out the best in others, as well as child and adolescent psychology to join us for this preview session. If you would like to know more about Positive Psychology and Positive Education programmes or the preview, fill in the registration form below or contact us at
enquiry@positivepsych.edu.sg
.