Rethinking Motivation For Learning: Fireside Chat + Course Preview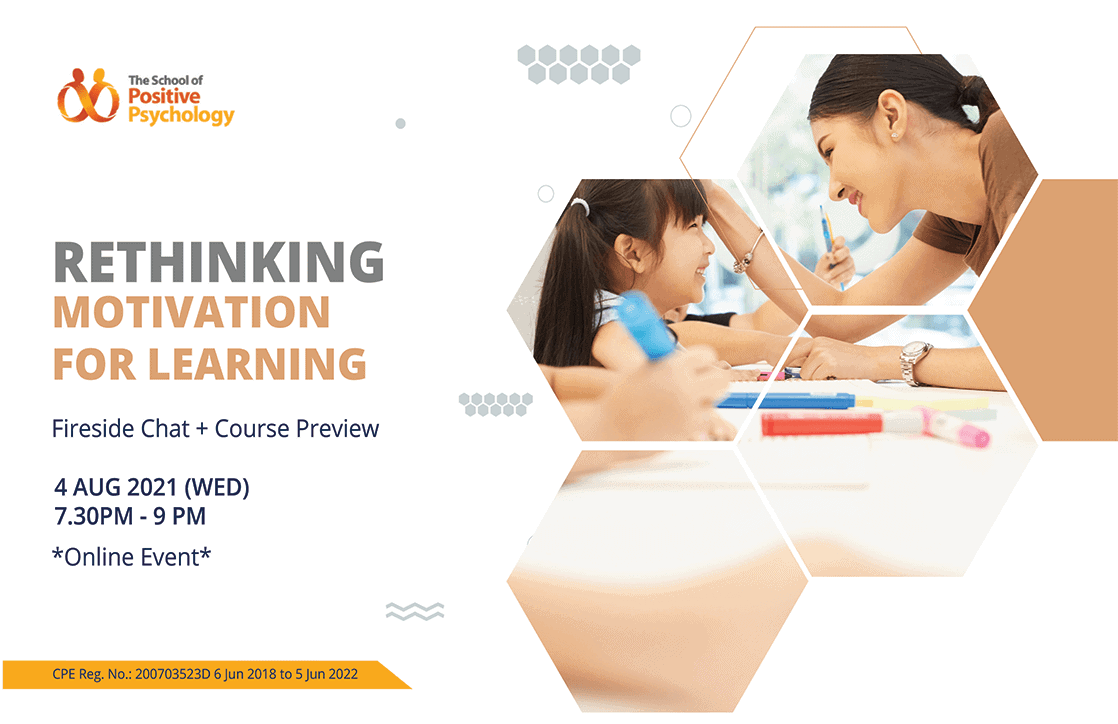 What are some better ways to enhance students' motivation for learning to position them for success in the future?
Very often, motivation is thought to be stimulated by external rewards, or sometimes even punishment. However, material incentives may only achieve manipulation and temporary results.
If you are an educator or parent looking to foster long term and sustainable motivation in students, then join our fireside chat with higher education and talent development consultant Sriven Naidu, as we relook motivation and discuss crucial motivational pathways needed for holistic and effective education.
How can we better unleash students' motivation to learn?
How effective are grades, praise and high quality feedback for enhancing learning?
What are ways to better understand students' needs to succeed at learning?
The fireside chat will be followed by the Course Preview of Postgraduate Diploma in Positive Education Strategies and Postgraduate Certificate in Positive Education.
What is the online course preview about?
This is an opportunity for anyone interested in our Positive Psychology programmes to learn more about the course structure, career pathways and entry requirements.
After a presentation by our consultant, there will be a Q&A session for attendees to clarify any queries as well as learn more about admissions procedures.
After registration, participants will be sent a link to join the talk and preview.
About the Speaker: Sriven Naidu
Sriven is currently Executive-in-Residence at IMD, the Swiss Business school ranked #1 for Executive Education by the Financial Times for 2018-2020. He has delivered custom programs for corporations and universities in the UK, India and across ASEAN (incl. VISA, Alliance Bernstein, the Monetary Authority Singapore, as well as University College London, Singapore Management University, the Lee Kuan Yew School of Public Policy, INSEAD and IMD).
Since 2019 he has been the executive development consultant to Capitaland and a family-owned luxury hotel group, designing Talent & Leadership Development programs that emphasise Learning Agility and Organizational Resilience. Sriven focuses on 'strategic awareness for functional leadership' and 'organisational resilience'. His signature workshop on decision-making and communication for Leaders and Teams is called '30 Seconds Wiser'.
Prior to this, his varied cross-sector career included roles as:
We welcome everyone who is interested in educational psychology, positive psychology or those who want to bring out the best in others to join us for this preview session.
If you would like to know more about Positive Psychology, other programmes or the preview, fill in the registration form below or contact us at
enquiry@positivepsych.edu.sg
.