Understanding Loneliness With Positive Psychology Talk + Course Preview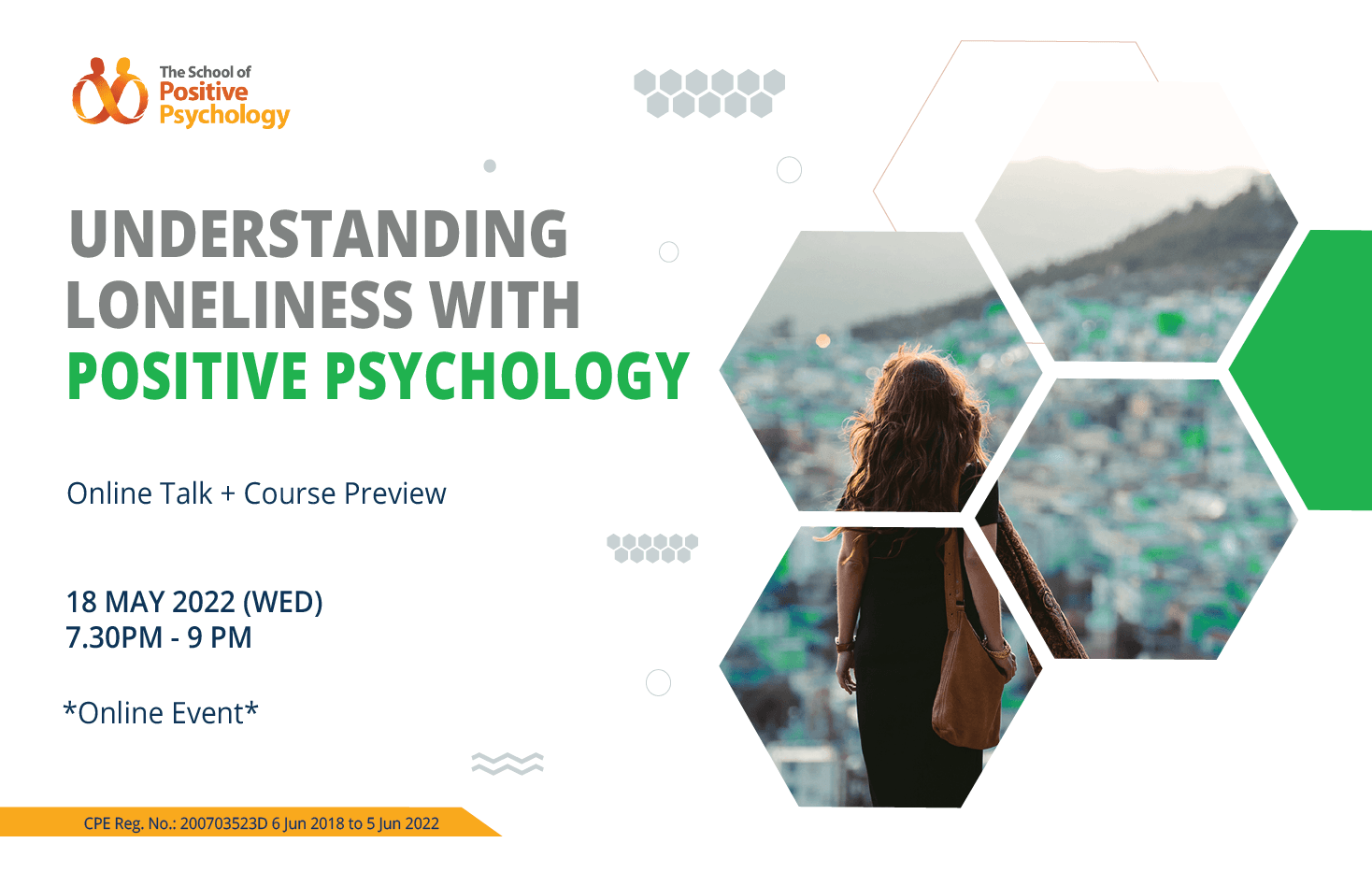 There is more to loneliness than being alone or feeling an unpleasant emotion. It is a mental state that can lead to many negative effects on health and wellbeing, and can even be contagious in social networks.
With loneliness as the theme for this May's world mental health awareness week, join us in developing a deeper understanding of this emotion, and ways to counter it using Positive Psychology strategies.
Positive psychology coach and trainer Martina Maurer shares her extensive insights into loneliness – how the science of wellbeing can help us to shift ourselves out of a lonely state, and how we can guide others who may be feeling lonely.
Join us in this session, where you will:
Gain a deeper understanding of loneliness from a Positive Psychology perspective
Learn about different types of loneliness
Explore some approaches to countering loneliness in ourselves and others
The talk will be followed by the Course Preview of Positive Psychology programmes.
What is the Course Preview about?
This is an opportunity for anyone interested in TSPP's courses to learn more about the course structure, career pathways and entry requirements.
After a presentation by our consultant, attendees will be able to participate in a Q&A session, and learn more about admissions procedures.
After registration, participants will be sent a link to join the course preview.
Our Positive Psychology Courses:
About the Speaker: Martina Maurer
Martina has a MA degree in Leadership, Innovation and Change Management, a MSc in Applied Positive Psychology with a post-graduate diploma in Positive Organisational Psychology and Leadership. She is a Master Certified Coach in Behaviour Change from the Behavioural Coaching Institute (BCI), an industry-approved and internationally recognised coaching certification by International Coaching Council (ICC), the most valued accredited coaching designation recognised by the international coaching community. She also holds an International Coaching Federation (ICF) accredited certificate in Positive Psychology Coaching.
With over 20 years of experience in global and local senior management roles across luxury fashion and the retail industry, she has a strong background in coaching for organisational and leadership development as well as leading change through building positive relationships, resilient teams and high-performing individuals.
We welcome everyone who is interested in psychology, positivity, or helping to bring out the best in others to join us for this course preview.
If you would like to know more about Positive Psychology and Psychotherapy programmes or the preview, fill in the registration form below or contact us at
events@positivepsych.edu.sg
.