Understanding Your Quest For Meaning Talk + Course Preview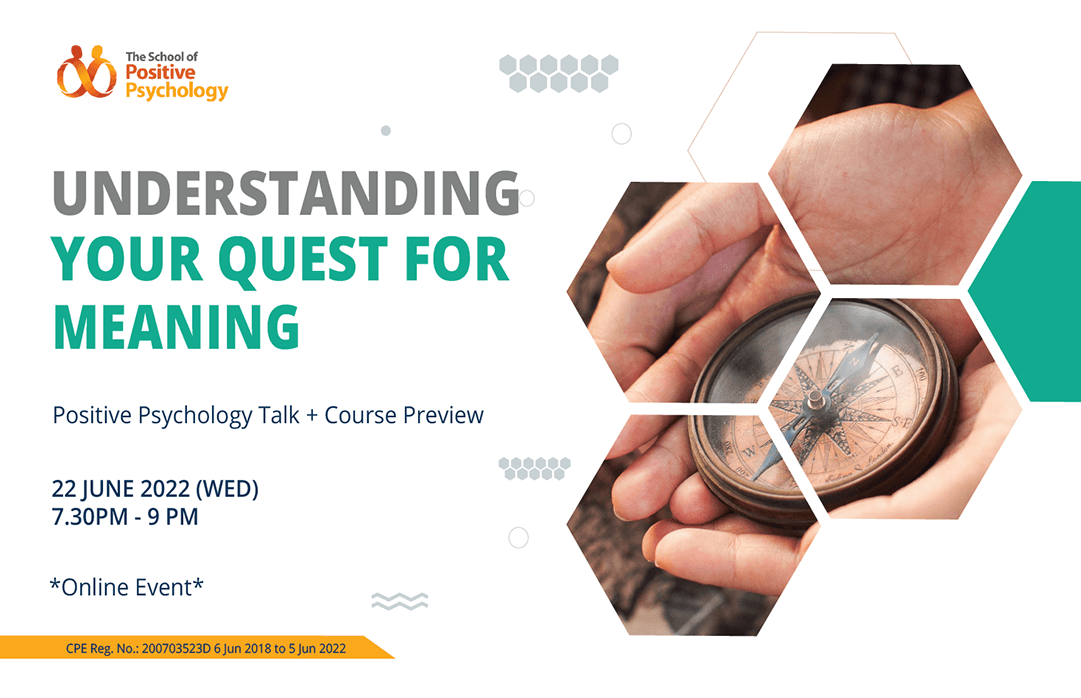 As human beings, we are constantly striving to see significance in and make sense of our lives.
However, finding a deeper meaning and purpose may be an elusive concept for some, especially in the face of mounting challenges and ever-changing life circumstances.
While meaninglessness can make us dissatisfied, pull down our wellbeing and make us more susceptible to the negative effects of stress, the search for meaning may be just as frustrating and overwhelming.
How then do we explore this quest successfully?
In this talk + course preview, understand meaning from a positive psychology perspective with lecturer Jana Dawson.
Learn to better manage your wellbeing and support others with practical, evidence-based strategies to develop your unique sense of meaning and purpose!
Join us in this session, where you will:
Gain a deeper understanding of Meaning from a Positive Psychology perspective
Learn the benefits of living a meaningful life
Experience Positive Psychology Interventions to discover your sources of meaning
The talk will be followed by the Course Preview of Positive Psychology programmes.
What is the Course Preview about?
This is an opportunity for anyone interested in TSPP's courses to learn more about the course structure, career pathways and entry requirements.
After a presentation by our consultant, attendees will be able to participate in a Q&A session, and learn more about admissions procedures.
After registration, participants will be sent a link to join the course preview.
Our Positive Psychology Courses:
About the Speaker: Jana Dawson
Jana's multidisciplinary background in organisational and intercultural communication, positive psychology, coaching and mindfulness has fashioned her expertise in developing and delivering evidence based, culturally applicable programmes in numerous organisational contexts.
As a positive psychology practitioner, Jana is an advocate of a strengths-based approach in guiding individuals, teams and organisations to develop positive behaviours that cultivate resilient and flourishing organisations.
We welcome everyone who is interested in psychology, positivity, or helping to bring out the best in others to join us for this course preview.
If you would like to know more about Positive Psychology and Psychotherapy programmes or the preview, fill in the registration form below or contact us at
events@positivepsych.edu.sg
.