Using Positive Psychology To Help Others: Interactive Course Preview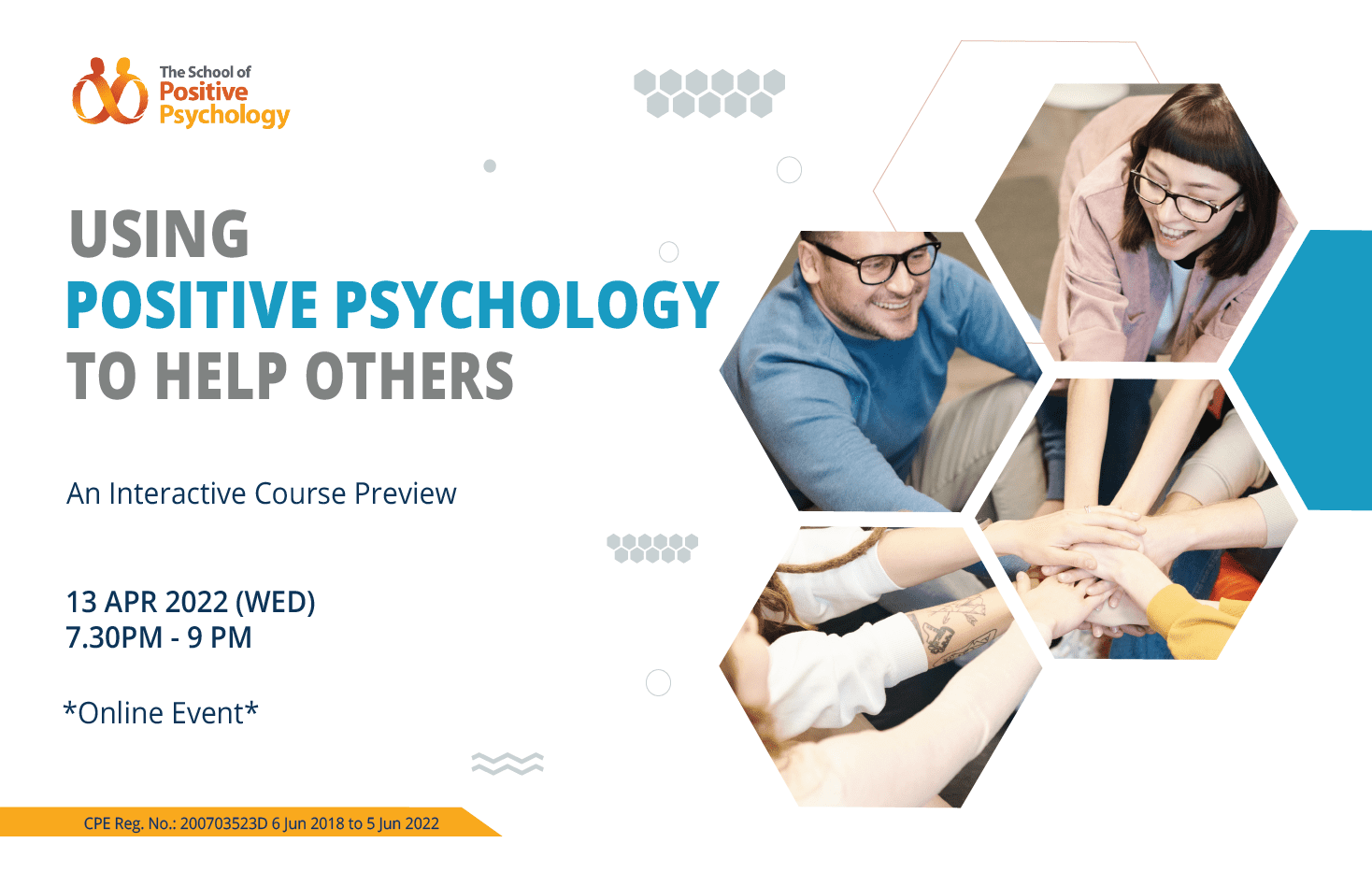 If you work to improve the lives of people, you may be experiencing added demands for support in the backdrop of increased stress and challenges brought about by the pandemic.
How can we ensure that we have put effective strategies in place for our own wellbeing, and that of others?
Positive psychology is a proactive, preventative science that uses evidence-based research to cultivate mental wellbeing.
With the online Specialist Diploma in Positive Psychology and Wellbeing, receive world-class positive psychology education to bring effective change to your context!
This international online course offers extensive, real-time and personalised training, while students connect with a community of fellow change makers from the region.
If you are keen to create beneficial change in your life, family, workplace, or community, join us in this interactive course preview, where you will experience a taste of the programme's learning journey.
What is the Course Preview about?
This is an opportunity for anyone interested in the Specialist Diploma programme to learn more about the learning methods, course structure, career pathways and entry requirements. After a presentation by our consultant, attendees will be able to participate in a Q&A session, and learn more about admissions procedures.
From this preview, you will:
Discover how Positive Psychology can improve wellbeing for yourself and others
Have a deeper understanding of human wellbeing and flourishing
Experience the learning modalities of the online Specialist Diploma in Positive Psychology and Wellbeing
After registration, participants will be sent a link to join the course preview.
We welcome everyone who is interested in psychology, positivity, or helping to bring out the best in others to join us for this course preview.
If you would like to know more about Positive Psychology and Psychotherapy programmes or the preview, fill in the registration form below or contact us at
enquiry@positivepsych.edu.sg
.