Are You Suited To Be A Therapist? Online Talk + Preview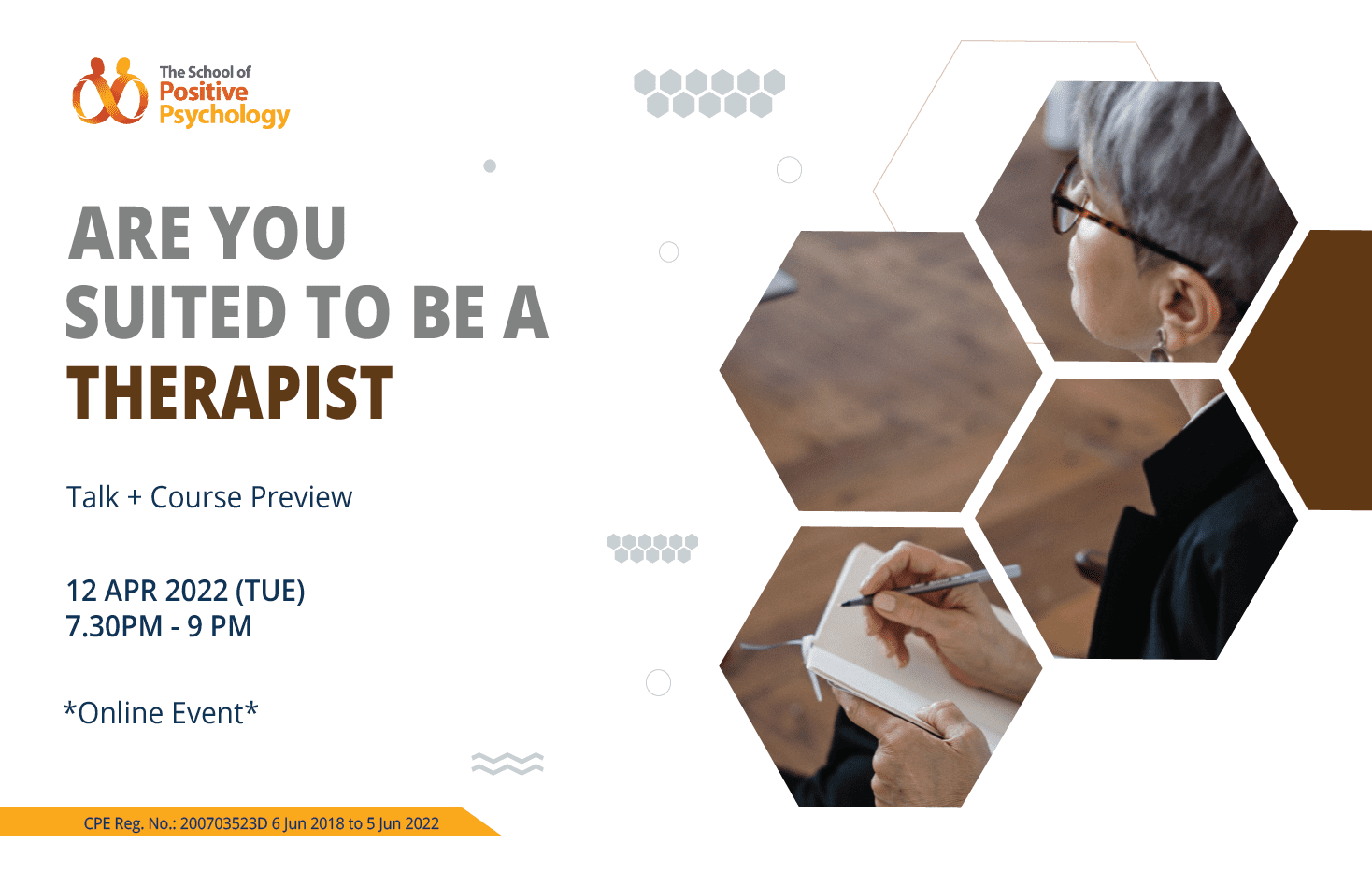 The understanding of psychology does not equate to proficient skills in psychotherapy to work with clients.
Some of us may feel called to embark on a career in the helping profession. Yet there are also individuals who have completed courses in psychology, but still feel a disconnect when it comes to dealing with psychological issues.
This is because there is a difference between psychology and psychotherapy – Psychology is the knowledge of human life, whereas psychotherapy is the application of psychological knowledge.
Are there people with a propensity to carve out a career in the mental health profession more so than others? In this online talk, learn what strengths and attributes it takes to become a psychotherapist.
More than just having the duty of care and benevolence, psychotherapists are required to align to an ethical code of practice to protect the mental health community and profession.
This interactive session with Stephen Lew, Founder & Director of The School of Positive Psychology, will allow you to find out what sort of training a psychotherapist needs, and understand why it is essential for psychotherapists to self-assess before seeing a client.
Coaches and people interested in mental health may feel passionate to help, but a psych-related certification does not automatically entail one the ability and skills to work with a client.
Being a psychotherapist is a continuous journey of learning, as practitioners are required to attend clinical supervision and constantly keep up with the latest research.
Key takeaways for participants:
Learn the importance of ethical practice in psychotherapy
What are the do's and don'ts of psychotherapy
Discover the milestones and journey to become a proficient psychotherapist
The talk will be followed by the Course Preview of Psychotherapy programmes.
What is the online course preview about?
This is an opportunity for anyone interested in TSPP's courses to learn more about the course structure, career pathways and entry requirements.
After a presentation by our consultant, attendees will be able to participate in a Q&A session, and learn more about admissions procedure.
After registration, participants will be sent a link to join the talk and preview.
About the Speaker: Stephen Lew
An expert in the field of positive psychology with 19 years of experience in the higher education and training industry, Stephen Lew is a strong believer in giving back to society, Stephen actively volunteers his personal time for community projects – be it giving talks to community and religious groups, or providing pro-bono psychology training to welfare organisations.
In March 2020, Stephen conducted an intervention and training for crisis responders in China, when the COVID-19 pandemic first started. More than 100 counsellors, mental health professionals, and psychologists managing the COVID-19 crisis helpline were trained. Stephen also taught the Chinese crisis responders resilience, and resilience techniques to teach others in China.
We welcome everyone who is interested in psychology, psychotherapy, or helping to bring out the best in others to join us for this preview session. If you would like to know more about Psychotherapy, other programmes or the preview, fill in the registration form below or contact us at
events@positivepsych.edu.sg
.