How To Survive An Existential Crisis: Online Talk + Preview​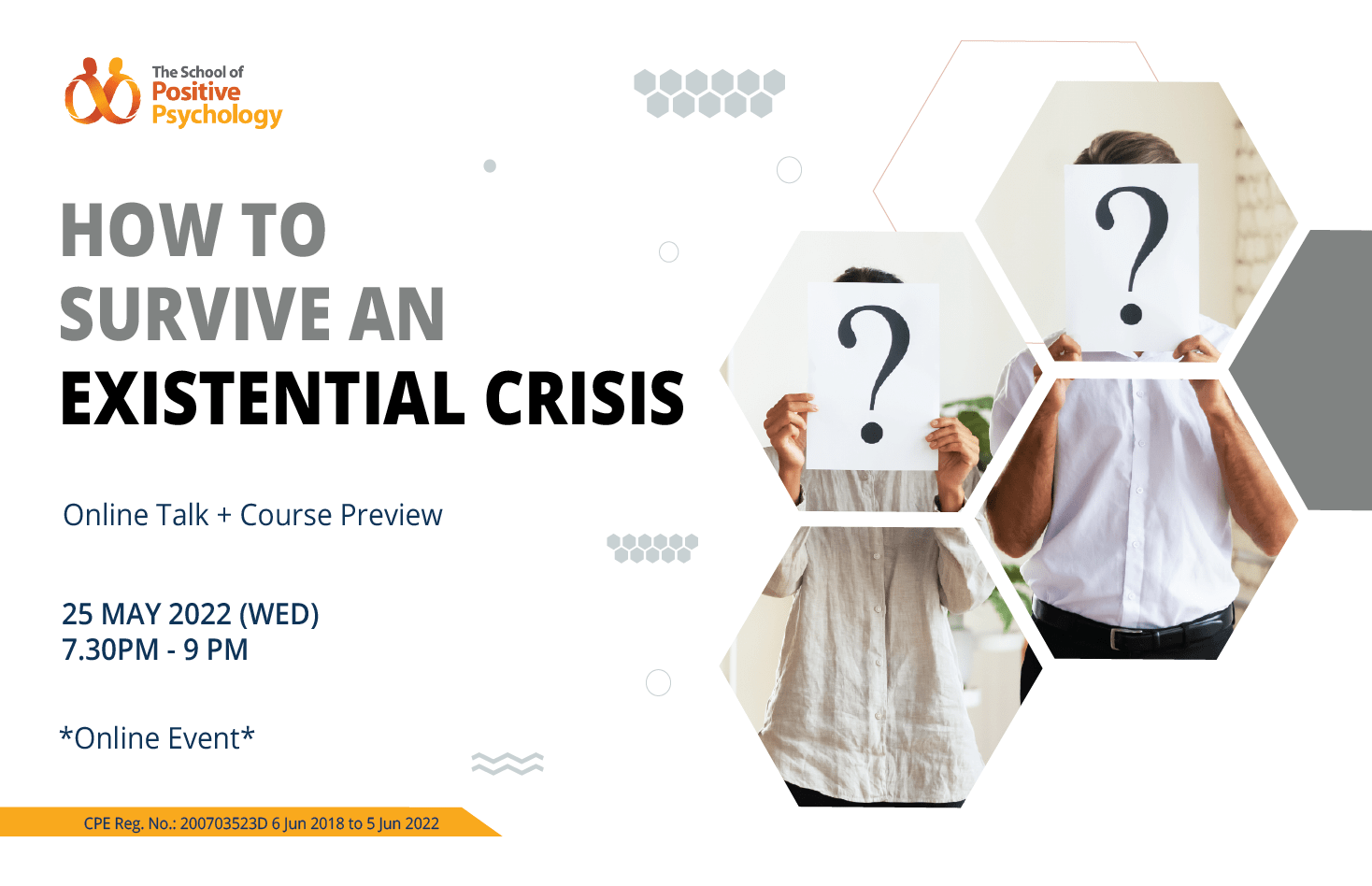 There are numerous people who appear happy outwardly but are feeling lost, lonely, and insecure within. These individuals may portray themselves to be celebrating an engaging life, but they may be silently crying at night, their sadness unbeknownst to the public.
A loss of direction or undiscovered purpose in life may cause some individuals to develop an existential crisis, where they do not know what is the meaning of their lives.
The illusion of success may further exacerbate existential crises, especially if people think that external achievements and an affluent lifestyle will bring them everlasting happiness, and are means to end their sufferings.
However, studies have shown that people who achieved success in their careers are also prone to feelings of isolation. Despite their accomplishments, they can still be highly anxious and lonely. Many of them lack emotional expression and are unable to demonstrate vulnerability.
A clinically-trained medical professional may not be able to differentiate between a person having an existential crisis versus depression. In this talk, learn how we can use psychotherapy to help others or ourselves in dealing with loneliness or an existential crisis.
At this Psychotherapy talk:
Learn how to spot the signs of an existential crisis
Discover what is the meaning and purpose of your life
Gather tips to help yourself or others navigate through an existential crisis
What is the online course preview about?
This is an opportunity for anyone interested in TSPP's courses to learn more about the course structure, career pathways and entry requirements.
After a presentation by our consultant, attendees will be able to participate in a Q&A session, and learn more about admissions procedures.
After registration, participants will be sent a link to join the talk and preview
About our Speaker: Stephen Lew
An expert in the field of positive psychology with 19 years of experience in the higher education and training industry, Stephen Lew is a strong believer in giving back to society, Stephen actively volunteers his personal time for community projects – be it giving talks to community and religious groups, or providing pro-bono psychology training to welfare organisations.
In March 2020, Stephen conducted an intervention and training for crisis responders in China, when the COVID-19 pandemic first started. More than 100 counsellors, mental health professionals, and psychologists managing the COVID-19 crisis helpline were trained. Stephen also taught the Chinese crisis responders resilience, and resilience techniques to teach others in China.
We welcome everyone who is interested in psychology, psychotherapy, or helping to bring out the best in others to join us for this preview session. If you would like to know more about Psychotherapy, other programmes or the preview, fill in the registration form below or contact us at
events@positivepsych.edu.sg
.