Psychotherapy – A Gratifying Career In Mental Health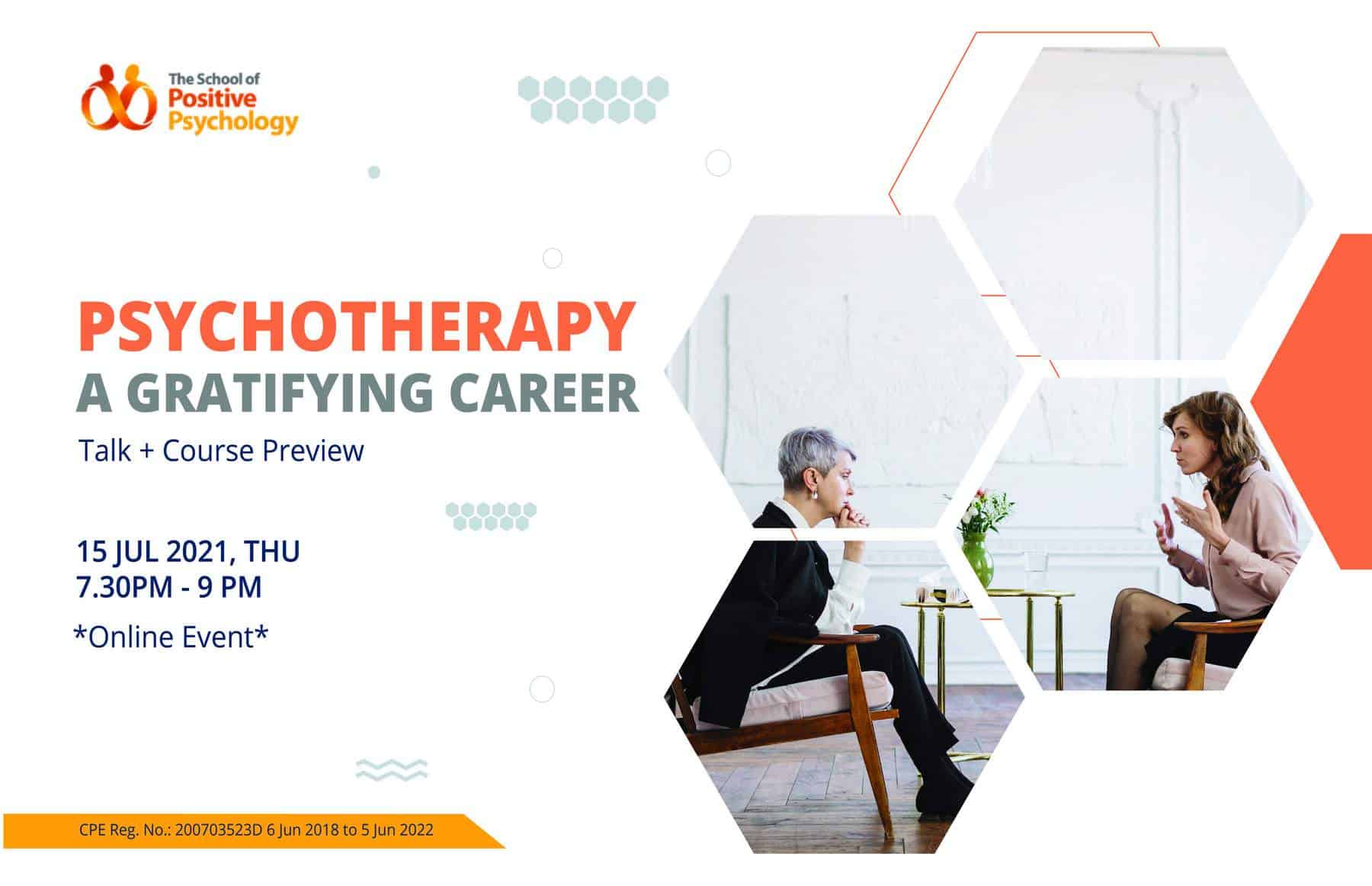 If you are looking for a meaningful and fulfilling career helping others, consider a career in psychotherapy. With the decline in global mental health since the Covid-19 pandemic, the need for more mental health professionals is more important than ever.
Psychotherapy, or talk therapy, is a way to help people with a broad variety of mental health issues and emotional difficulties. This form of therapy is very beneficial in helping control troubling symptoms by helping a person develop positive thinking and coping skills to increase wellbeing and healing.
Join Stephen Lew – licensed clinical hypnotherapist and lecturer at TSPP – as he shares more about psychotherapy. He will introduce several different types of therapies, share the benefits from psychotherapy, and his own psychotherapy journey.
You will learn about the following:
The talk will be followed by previews of selected TSPP courses.
Our Course Previews are non-obligatory information sessions for prospective students to learn about the various programmes offered at The School of Positive Psychology. We would love to help you jumpstart a meaningful career!
What is the online course preview about?
This is an opportunity for anyone interested in our psychotherapy and counselling programmes to learn more about the course structure, career pathways and entry requirements.
After a presentation by our consultant, there will be a Q&A session for attendees to clarify any queries as well as learn more about admissions procedures.
fter registration, participants will be sent a link to join the talk and preview.
Psychotherapy courses offered at TSPP:
About the Speaker: Stephen Lew
An expert in the field of positive psychology with 19 years of experience in the higher education and training industry, Stephen Lew is the Founder and Executive Director of The School of Positive Psychology, a Singapore-based higher education institute that offers psychological-centric training programmes for professional and corporate development.
Stephen holds an MSc Applied Positive Psychology with a focus in Organisational Psychology and Leadership. He is also a certified psychotherapist, clinical hypnotherapist, supervisor, and a fellow with the National Council of Psychotherapists in the United Kingdom. As a psychotherapist and a positive psychology coach, Stephen has worked with more than 800 clients in the areas of wellbeing development.
We welcome everyone who is interested in psychology, psychotherapy, or helping to bring out the best in others to join us for this online information session.
If you would like to know more about Positive Psychology and Psychotherapy programmes or the preview, fill in the registration form below or contact us at
enquiry@positivepsych.edu.sg
.